ABOUT TAVEUNI
Upon first arriving in Taveuni I experienced the magic of the South Pacific made famous by classic novels.  More recently, Taveuni was the location for filming The Return of the Blue Lagoon.  You will arrive on an island unaffected by time, void of worry and spoilt by beauty.  Taveuni is a unique South Pacific paradise quite like no other.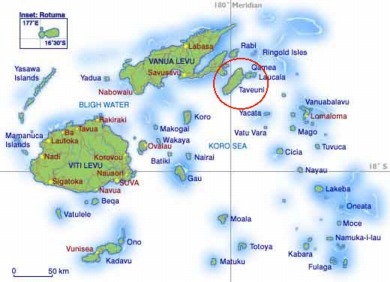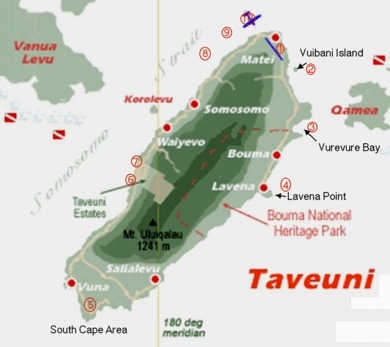 Taveuni (pronounced Tah-vee-ew-nee), known as Fiji's Garden Island, is an elongated emerald enclave (42 kilometers long and averaging 11 kilometers wide). The third largest island in the Fiji archipelago, it is located just south of Vanua Levu (Fiji's second largest island) across from the Somosomo Strait. Verdant, rugged and volcanic in origin, it reaches a maximum height of 1241 meters at Mt. Uluigala. The island's fertile volcanic soil provides a perfect medium for the abundant flora.
In 1643, Abel Tasman became the first European to sight Taveuni.
Taveuni's volcano, like Maui's Haleakala, is dormant which means that while it not active at present, there could be an eruption some day. This part of the island was evacuated due to eruptions about 400 AD and was not resettled until 1100 AD.
With a population of around 12,000 inhabitants (some 75 percent of them indigenous Fijians, at the 1996 census), Taveuni is sparsely populated. Virtually all of whom live in traditional Fijian villages and are extremely hospitable. English is widely spoken and the climate is tropical.   Once known for its coconut plantations, Taveuni has many world class attractions including bird watching, diving and snorkelling, fishing, virgin rainforests and waterfalls amongst just a few.